Maximo Everyplace is a great addon to enable mobile capabilities in IBM products based on Maximo/TPAE without dealing with complex setup and configuration required by the more advanced Maximo Mobile solutions. The great advantage of Maximo Everyplace over Maximo Mobile is its simplicity.
Basically speaking, with Maximo Everyplace you can build small-screen-friendly TPAE applications that are tailored to fulfill specific user scenarios. The process of creating a custom application is well described in the product documentation and is easy if you are familiar with the Application Designer.
The current supported platform for Maximo Everyplace are iOS (Apple), Android and Blackberry. I found iOS and Blackberry very limited because they have proprietary hardware platforms. On the other hand, many hardware manufacturers are starting to produce industrial rugged devices based on the Android platform.
When I was asked for some advice by one of my customers I performed a market research based on the following requirements.
Well known manaufacturer to provide excellent and durable support.
7 inches screen. I think that 3.5 or 4 screens are to small to effectly use Everyplace in a real working environment. Tablets with 10-inches screen seems to big to be handled with one hand.
Good CPU running at at least 1GHz to deliver a smooth browsing user experience.
Built in barcode scanner with dedicated button to activate the scan.
7-inch Android rugged tablets are not yet very common (June 2012). In particular I have found two interesting devices that seems to fit my requirements. Motorola ET1 and Panasonic Toughpad A1Since the Panasonic is not yet available I ended up with choosing Motorola ET1 tablet. Even if Motorola seems to fit all my needs I want to be sure it works well with Maximo Everyplace so I have asked Motorola to send me a device to perform a hands on test.
After few days of testing I have to say that I really like the Motorola's tablet. Here are my favorite characteristics.
Stylish and robust hardware
Looking at ET1 you wan't believe that you are looking at a MIL STD 810G certified 'rugged' device.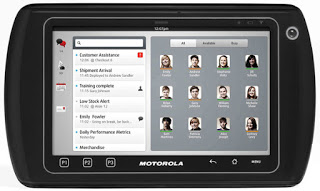 Dedicated buttons for barcode scanning
The ET1 is equipped with two buttons on the back that can trigger barcode scanning through the rear camera. Considering that it is not a laser scanner, I found it quite fast and powerful. It takes around 1 second to start the camera and recognize a wide variety of barcode types.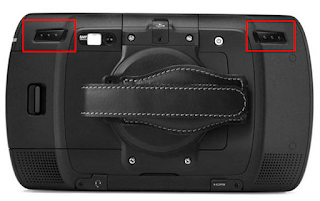 Soft-buttons on the front
There are three customizable buttons on the lower left corner of the screen. I have assigned one of these to type a TAB character so i can quickly move across Maximo field without having to play too much with the touchscreen.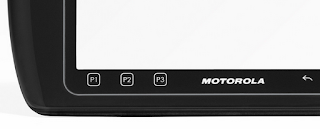 Hand strap
The optional hand strap accessory allows you to steadily hold the ET1 with the left hand while leaving your right hand free to type and swype on the display or hold and move items and tools in your storeroom.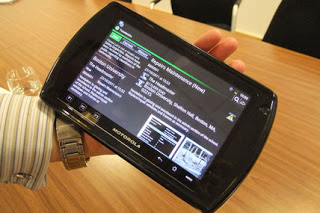 Maximo Everyplace on Motorola ET1 tablet