This page has been published in 2015 and contains obsolete info.
After 2 years of blogging on MaximoDev and more than 100 posts to explain how to configure and customize Maximo I want to spend few minutes to explain how to NOT customize Maximo.
Customizing Maximo may be challenging and fun but should always taken carefully because it can inject problems and generate additional costs and risks when upgrading.
One of the most interesting features of Maximo is its ecosystem of extensions, add-ons, integration modules and industry solutions. This ecosystem is populated by many IBM and non-IBM products and solutions that allows to extend the product's core features.
The following picture describes the IBM portfolio of Maximo extensions and industry solutions.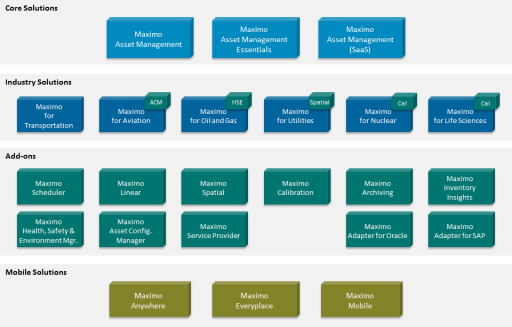 Before starting to implement your own solution to a common problem, take a look at this list of the available Maximo Industry Solutions and Extensions.
Add-ons
Industry Solutions
Mobile Solutions
Free Integration Modules on ISM Library
Overview of Maximo Industry Solutions and Extensions