If you are using IBM Maximo from many years, you may start experiencing performance degradation navigating the user interface, searching for data or performing some transactions like changing the status of a record or routing the workflow.
This is often caused by the accumulation of historical records in the Maximo database. There are some system tables in Maximo that never stop growing like WFASSIGNMENT, CRONTASKHISTORY or LOGINTRACKING. Other tables store business data but may not be relevant to the business. Why do you have to keep the history of statuses of work orders that were closed 5 years ago?
The hard truth is that queries, inserts and updates get slower when the data volume grows.

For medium-large environments running from several years you should think about implementing a data archiving strategy to control the data volume growth over time.
As far as I know, the available solutions for data archiving are the following:
Custom SQL scripting

– This seems to be the quickest and effective solution but I would not advice it. Hidden costs of development and maintenance are always present. How safe it is? How do you ensure data integrity? How can you restore data back into Maximo in case of need?
IBM Maximo Archiving Adapter for InfoSphere Optim Data Growth Solution – I have to be honest… I don't like it. It is based on a very reliable (but old) technology. Archival process is not managed within Maximo and it also quite expensive. Furthermore… it is no longer available.
Envision MaxArc – It is a popular choice for some clients. We had mixed experience with it in the past. It is not really simple to install and it is not well integrated in Maximo since it must be launched from command line.
Maximo CleanUP – Haven't got the opportunity to evaluate it. Looks promising from the brochure.
OmniEasyDataArchiving+ – Data archiving solution designed by me and delivered by OMNINECS. It is completely integrated in Maximo and very simple to install and use. Here are my favorite features:

Built for Maximo and in Maximo. No additional skills needed.
Can be installed in less than 30 minutes with almost no downtime.
Supports any Maximo environment: Maximo 7.6 or MAS 8, DB2/Oracle/SqlServer database, on-premise and cloud deployments.

Predefined archiving templates to start as fast as possible.
Archive data in a dedicated schema/tablespace and keeps its structure in sync with Maximo schema.
One Maximo application to manage data archiving rules.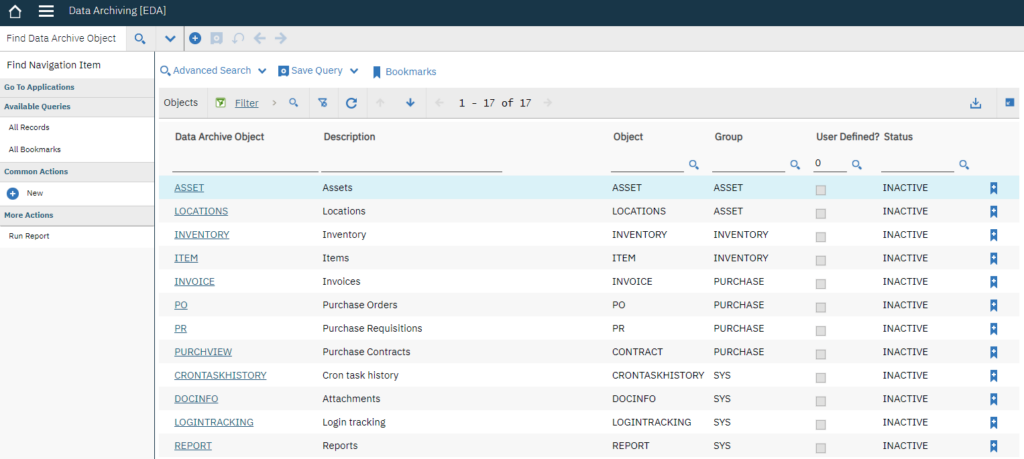 For more information about Eda+ refer the the product page.
Maximo data archiving solutions