With this post I will start a small set of articles on Maximo Everyplace which is a feature that provides the ability to use Maximo on mobile devices through the device web browser.
An interesting article on IBM Asset Management blog describes how to use a bluetooth barcode scanner paired with an iPhone or an iPad to enable barcode scanning capabilities for Maximo Everyplace. On Android you have two options to achieve the same result.
The first option is to install the Android App for IBM Maximo Everyplace from ISM Library. This little app addresses some of the limitations of Maximo Everyplace and displays a dedicated button to scan barcodes through the built-in camera.
The second solution is based on the Barcodescanner Keyboard Free app that is available on the Google Android market. There is also a paid version of the app but the free version works perfectly on my phone. This custom keyboard provides a custom button close to the spacebar that allows to scan a barcode through the built-in camera and send the output to the currently selected field. Here is how the keyboard looks.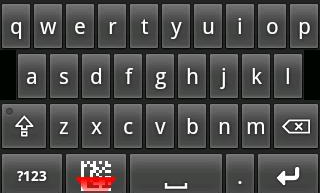 After having installed it, run the app and follow the instructions to configure it. Otherwise go in Settings – Language and input – Keyboard and set the Barcode Key as the default keyboard.
Now launch an application and you should be able to scan the following barcode directly into any text field using the new keyboard.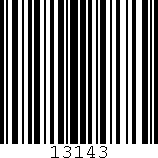 How to enable barcode scanning for Maximo Everyplace on Android