Have you participated to the Maximo salary poll? What is your monthly net salary as a Maximo Consultant? On the 13th of July I have launched an open poll asking what is the monthly net salary as a Maximo Consultant. In 2 weeks I have received 64 votes that can be hard to decipher.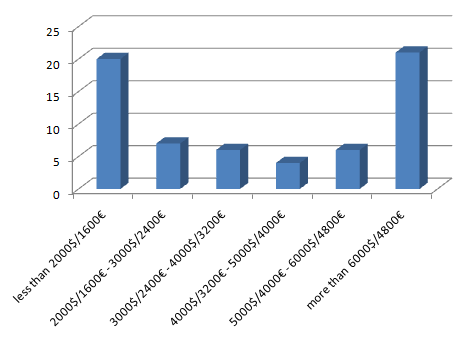 The population sample is obviously not statistically valid but we can still try to draw some considerations.
The V-shaped curve is probably caused by two factors.

Experienced EAM/CMMS consultants can easily earn more than 5000$ while young Maximo/TPAE specialists are in the lower range of the chart.
Average salary in US and North Europe is very different from emerging markets like India, China and Brazil.

There is a good chance for Maximo consultants to grow economically. There are some markets where Maximo jobs are really in demand.
Feel free to comment this post and add your opinions about these results.
Maximo Consultant 2012 salary poll