Do you know there is a wizard into MxLoader? You can invoke him clicking on the MxSheet Wizard button on the toolbar.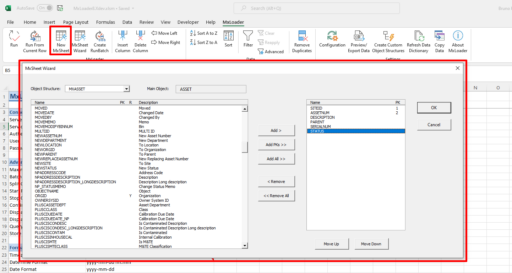 Joking apart, the MxSheet Wizard button can help you in creating your own MxLoader sheet choosing an available Object Structure and picking up all the attributes that you want to manage. This is actually based on an idea of John Green from Peacock Engineering who shown me their own improved version MxLoader with a built-in designer.
The wizard is quite self explanatory and is using well known user interaction patterns so it should be very easy to use.
It first fetches all the Object Structures defined on the server and list them in the listbox on the left uprer corner. After having selected the Object Structure, it fetches all the available attributes and list them in the left listbox. You can select any attribute and double click on it to add it to the selected attributes listed on the right. I strongly suggest to always add the primary keys (see the PK column) to the selected attributes.
Attributes are sorted alphabetically by default but you can change their order with the buttons at the bottom of the dialog.
When you have finished selecting the attributes, you can click the OK button and the MxLoader templated will be created and ready to be used.