Being efficient in our job should be always a top priority. As Maximo administrators and developers, we are logged many hours on the web interface and navigating around the UI. A properly configured MAXADMIN's start center is one of the important things to set up. Here is a typical start center of one of my clients.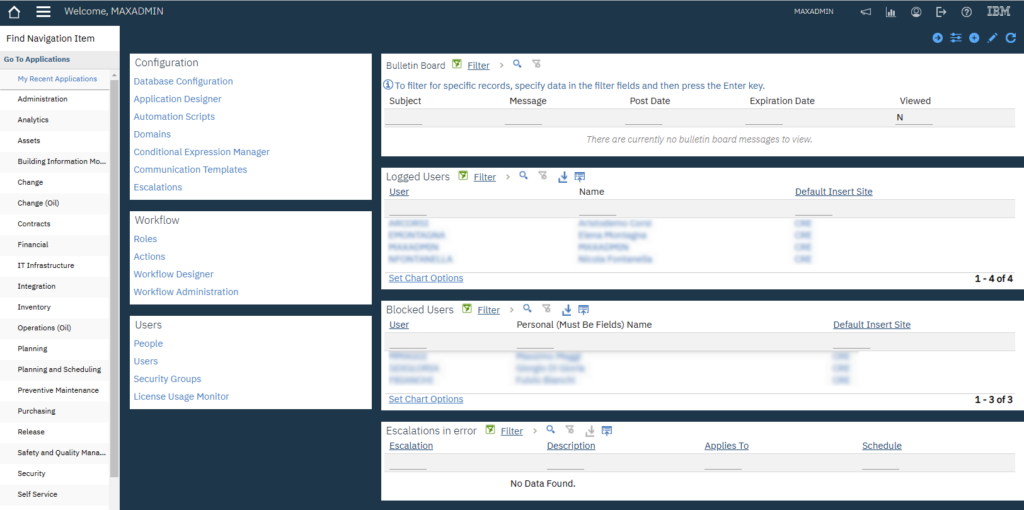 Favorite applications
The left side of the start center is dedicated to a set of links to the most commonly used administrative applications. The list is quite flexible depending on what applications you are actually using a lot.
Configuration
Database Configuration
Application Designer
Automation Scripts
Domains
Conditional Expression Manager
Communication Templates
Escalations
Workflow
Roles
Actions
Workflow Designer
Workflow Administration
Users
Users
People
Users
Security Groups
License Usage Monitor
Result sets
The right side of the start center is used to display list of interesting records.
Bullettin Board is not always used but is a very nice tool for announcing important updates and news.
Logged-in Users
A useful portlet (result set) that I typically configure on MAXADMIN's Start Center is the list of users logged to Maximo server. I use this to perform unplanned system maintenance that requires setting admin mode or restarting the server. Follow instructions in this post to configure it.
Blocked Users
Some users forget their password and can be blocked by the system after some failed login attempts. It is a good idea to contact them and reset their account.
The query to be configured in the Users application is: status = 'BLOCKED'
Escalations in error
Sometimes starts to fail and nobody is aware of the situation. It is a good idea to monitor failed escalations using the technique described in this post.
Other errors
The same technique described above can be used to monitor integration errors in the MAXINTERROR table (select count(*) from maxinterror where deleteflag=0) or failed email communications in the COMMLOG table (select * commlog where issendfail=1)
The perfect MAXADMIN start center